What a lovely winters weekend to take the ponies out and about.
If you would like to feature in our weekly #teamdevine blog send us your photo with details via email [email protected] or facebook http://www.facebook.com/devineequineaustralia
#teamdevine Super Model
The lovely yearling filly Thorwood Magnolia stepped out on Sunday at Shoalhaven Allbreeds.  Bred by Amanda Hewitt, Zoe is produced and shown by Alice of Devine Equine.
Zoey is wearing Ribbon Browband #R180317
#teamdevine NSW Ambassador
Congratulations Kira Small on winning your first Champion with your purebred mare Arabela El Sahra.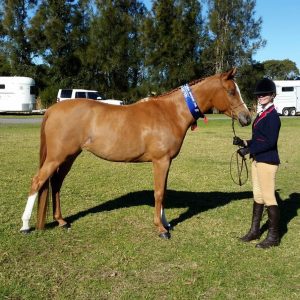 #teamdevine Pony Club Specials
Thanks to Mikayla on board Happy as Larry and Ella riding Meilbra Park Siandrah on the lovely photos from your day competing for Melton & Districts Pony Club.   The girls took advantage of our Pony Club Sharkstooth/Bling Special with a complimentary Hair Scrunchie and looked just fabulous.
#teamdevine QLD Ambassador
Its always a pleasure seeing photos of Master Sabastian Lucas out and about enjoying his ponies.  Pictured is Sabastian riding his pony Mr Chips wearing Ribbon Browband #R180326